Apple launches iOS 10.2 with new 'TV' app, plus updated new emoji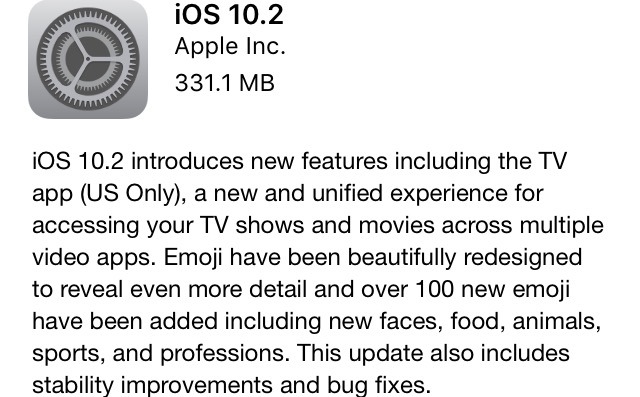 After a long beta period, Apple's long-awaited iOS 10.2 update is now available for iPhone and iPad, introducing a new "TV" app for discovering video content, as well as dozens of new and redesigned emoji characters.
iOS 10.2 can be installed as a wireless update via the software update in the native Settings app. It can also be installed with iTunes on a connected Mac or PC.
"iOS 10.2 introduces new features, including the TV app (US only), a new, unified experience for accessing your TV shows and movies across multiple video apps," the release notes state. "Emoji have been beautifully redesigned to reveal more detail and over 100 new emoji have been added including new faces, food, animals, sports and professions. This update also includes stability improvements. and bug fixes. "
The full list of features highlighted by Apple is:
Use Up Next to see the movies and shows you're currently watching and pick up where you left off
Get recommendations for new movies and TV shows in Watch Now
Check out new apps and the latest versions of iTunes in the Store
Access the library for your iTunes purchases and rentals
Beautifully redesigned emoji that reveals even more detail
Over 100 new emoji including new faces, food, animals, sports and professions
Improves stabilization and provides faster frame rate for live photos
Improves the accuracy of groupings of similar photos of the same person in the People album
Fixes an issue where Memories can generate a memory from photos of screenshots, whiteboards, or receipts
Fixes an issue where the camera would remain zoomed in after reverting from the camera roll on an iPhone 7 Plus
Additional support for RAW digital cameras
Adds new fullscreen love and celebration effects in Messages
Fixes an issue that sometimes prevented the keyboard from displaying in messages
Swipe the Now Playing screen up for easier access to Shuffle, Repeat, and Up Next
Choose how to sort playlists, albums and songs in the library
Stories that you saved for later now appear in the Saved section
Top paid stories from channels you've subscribed to will appear in a dedicated section in For You
Now it's easier than ever to access the next story, just swipe left or tap the next story while reading
Fixes an issue that caused the travel sheet to persist after submitting an email message
Fixes issue with long press copy and paste activation in Mail
Fixes an issue where the wrong message would be selected after deleting a Mail conversation
Adds support for BraillePen14 to VoiceOver
Fixes an issue where the braille table could toggle unexpectedly with VoiceOver
Fixes an issue where sometimes enhanced Siri voices were not available for VoiceOver
Fixes an issue where VoiceOver users could not rearrange items in lists
Fixes an issue where Switch Control was sometimes unable to delete voicemail messages
Other improvements and fixes
Adds notification support for HomeKit accessories including window coverings, occupancy, motion, door / window, smoke, carbon monoxide and water leak sensors
Adds support for notifications for HomeKit accessories when software updates are available for HomeKit accessories
Improve Bluetooth performance and connectivity with third-party accessories
Fixes an issue that could cause FaceTime participants to appear blurry
Fixes an issue that could cause FaceTime calls to appear with incorrect aspect ratio and orientation
Fixes an issue that prevented some visual voicemail messages from finishing playing
Fixes an issue in Safari Reader that could cause articles to open on empty pages
Addresses an issue that could cause Safari to quit unexpectedly after marking an item as read in the Reading List
The launch of the "TV" app comes less than a week after Apple rolled out single sign-on support for participating cable providers, including Dish, Sling TV, DirecTV, CenturyLink Prism and GVTC.
Users can find a new TV provider option in the Settings app. There, users can enter their login credentials and have them automatically provided to video streaming apps that require a cable subscription.
Third-party apps supporting the new single sign-on feature were also featured in the App Store. They understand Food web, DIY, Travel channel and Brand chain.
Other changes include new emoji that conform to the Unicode 9.9 standard, which includes around 72 new icons, such as a clown, bacon, selfie, and a sneezing face. The existing emoji have also been redesigned with more detail and / or different styles.
Other changes in iOS 10.2 include a widget for the Videos app, three new wallpapers, a "Preserve Camera" setting, and a "Press and Hold to Talk" menu under Accessibility Settings for the button. Home.
The Messages app has a new "Celebration" fullscreen effect, and the status bar has an additional headset icon, making it clearer when Bluetooth audio accessories are connected. The icon was already visible to owners of Beats Solo3 and Powerbeats3.