Rogers and Shaw reach agreement to sell Freedom Mobile to Quebecor for $2.85 billion in hopes of securing merger approval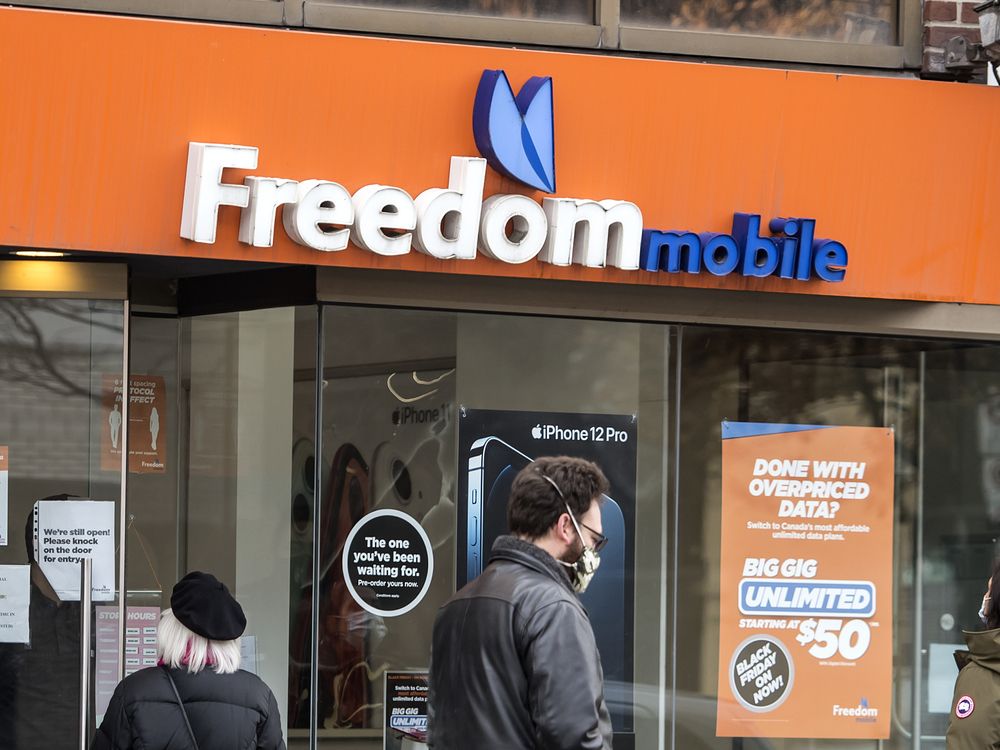 Rogers and Shaw reached a blockbuster merger deal last year, but it was delayed after the Competition Bureau found the merged company would reduce wireless competition and raise prices
Content of the article
Rogers Communications Inc. and Shaw Communications Inc. have reached an agreement to sell Shaw's Freedom Mobile wireless operation to Montreal-based Quebecor Inc. in an effort to move their $26 billion merger, which was stalled by concerns from the Competition Bureau that combining the two telecom giants will reduce wireless competition and raise prices.
Content of the article
The $2.85 billion Freedom transaction, announced Friday evening, is subject to regulatory approval
"The Freedom Transaction will ensure the presence of a strong and sustainable fourth wireless service provider across Canada," the companies said in a statement.
"The parties strongly believe that the agreement effectively addresses the concerns raised by the Commissioner of Competition and the Minister of Innovation, Science and Industry regarding viable and sustainable wireless competition in Canada.
Under the terms of the divestiture agreement, Quebecor has agreed to purchase Freedom without cash or debt at an enterprise value of $2.85 billion, expanding Quebecor's wireless business nationwide, beyond of his stronghold in Quebec.
Content of the article
The divestiture agreement includes the sale of all Freedom-branded wireless and Internet customers as well as all of Freedom's infrastructure, spectrum and retail outlets. It also includes a long-term commitment by Shaw and Rogers to provide Quebecor's transport services (including backhaul and basic services) and roaming services.
The companies said they "will work quickly and in good faith to finalize the final documentation."
Competition Bureau doubles down on objections to Rogers deal for Shaw

Rogers asks court to overturn Canada's Competition Bureau's rejection of Shaw takeover
"We strongly believe the divestiture will achieve the Government of Canada's goal of having a strong and sustainable fourth wireless service provider," Tony Staffieri, CEO of Rogers, said in a statement. "This agreement between proven cable and wireless companies will ensure the continuation of a highly competitive market with robust future investments in Canada's world-class networks.
Content of the article
Rogers and Shaw completed their blockbuster merger deal last year, but the planned closing was pushed back to late July after the Federal Competition Bureau concluded that combining the two telecom giants would reduce wireless competition. and would raise prices, and demanded a full block of the deal.
In documents filed with the Competition Tribunal, the antitrust authority argued that a 'cure' Rogers offered in the spring to sell Shaw's wireless assets did not do enough to address those competition concerns. . That view was reiterated Friday in a court filing, in which Competition Bureau officials also argued that the combination's alleged efficiencies are not enough to outweigh its anti-competitive effects because they are "speculative, unproven and unlikely to be achieved". in whole or in part or are grossly exaggerated.
Content of the article
Freedom Mobile has been sought by a handful of suitors since March, when it became clear that federal authorities demanding greater competition were not prepared to accept the "bulk transfer" of wireless assets from Shaw to Rogers.
The chief executives of Montreal telecommunications giant Quebecor Inc. and Toronto-based independent Globalive have expressed interest in acquiring Shaw's Freedom Mobile division, which analysts say could fetch up to $4 billion. Pierre Karl Péladeau and Anthony Lacavera also criticized the sale process conducted by Rogers, which initially excluded both parties.
Péladeau, CEO of Quebecor, said the agreement marks "a turning point for the Canadian wireless market. He said his company's subsidiary, Videotron, is already a strong fourth wireless competitor in Quebec, which "coupled with Freedom's strong footprint in Ontario and Western Canada, can deliver tangible benefits" in British Columbia. British, Alberta and Ontario.
Content of the article
"After fifteen years of growth in the Quebec wireless market, we have demonstrated our expertise, our capacity for innovation and our financial strength," said Péladeau.
Some telecommunications analysts considered Quebecor, which has established a competitive wireless offer in Quebec, as a favorite of the federal government. This view gained momentum when the Competition Bureau indicated that it believed that "bundling" wireless services with other telecommunications services, such as the Internet and home phone, could help ensure well-funded companies capable of increasing wireless competition.
Although the names of potential buyers in the 'remedy' sale that the Competition Bureau deemed inappropriate were blacked out in court filings, it is understood that Rogers had planned to sell Shaw's Freedom Mobile wireless assets. to rural Internet based in New Brunswick. service provider and mobile network operator Xplornet Communications Inc and Aquilini Investment Group.
Content of the article
Xplornet is owned by New York-based private equity firm Stonepeak Infrastructure Partners, while the Aquilini family owns assets including the Vancouver Canucks and Vancouver's Rogers Arena where the NHL team plays.
The merger of Rogers and Shaw has been approved by the Canadian Radio-television and Telecommunications Commission (CRTC) and Shaw shareholders, but still requires approval from competition authorities as well as Innovation, Science and Economic Development Canada.
The Competition Tribunal has scheduled hearings to begin November 7 and last at least four weeks, followed by written and oral arguments.