Survey probes effects of regulation on digital transformation • The Register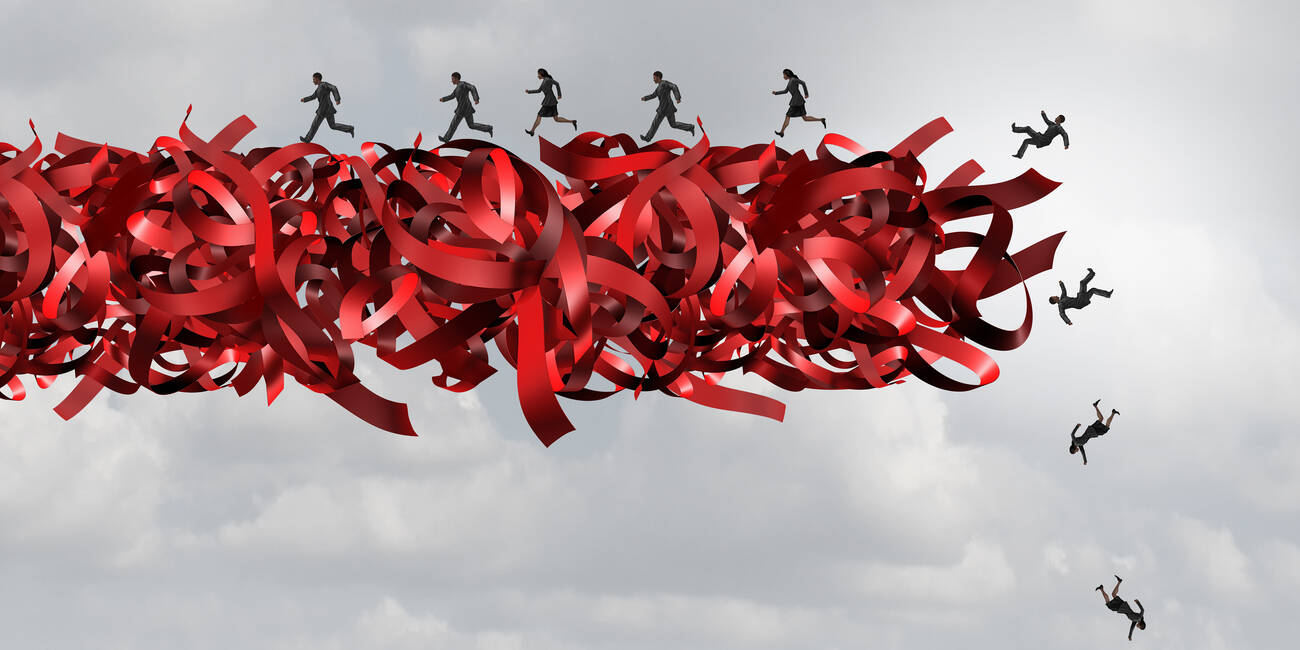 For highly regulated industries, compliance is seen as a barrier to digital transformation, but it's also seen as a key driver of modernization efforts, at least according to IBM research.
This seemingly paradoxical finding comes from a British survey conducted by IBM and the research firm Censuswide which studies the main drivers and obstacles to modernization in three of the most regulated sectors: financial services, telecommunications and the public sector. The survey included responses from more than 600 IT decision makers and professionals.
Across all respondents, security and regulatory compliance were listed as the top factors preventing organizations from going digital, with 44.8% agreeing with this. However, when asked their opinion on new regulations and policies, 40% also said that these were a catalyst for innovation and created the opportunity to offer new or differentiated products and services.
Other drivers of modernization included increasing security threats and the need to optimize costs, both highlighted by 32% of respondents. Other barriers to digital transformation included data security, a lack of skills in the workforce, and the costs of modernization.
Many of the respondents are also well aware of the potential consequences of not delivering digital transformation, with 34.8% indicating that their main concern was the increased cost of managing and maintaining a legacy system, followed by a security risk increased to 34.3%. percent, and then other factors such as organizational inefficiency and increased risks due to non-compliance with industry regulations.
When it comes to making changes in response to recent or upcoming regulations, 47% said they will need to upgrade their workforce or hire new people in response, 43% said they have already done and only 10% said they hadn't planned.
According to IBM, the trend for companies in these highly regulated industries is to adopt industry-grade clouds rather than generic cloud services to help them balance compliance with the need to innovate. Which is convenient, in line with IBM's vision that the world will be a mix of on-premises, public cloud, and private cloud.
Respondent figures indicate that 88% of them have migrated or plan to migrate to an industry-specific cloud platform that supports the compliance features they need.
Unsurprisingly, 49% of respondents said using a platform with built-in automated regulatory controls would boost their ability to innovate, while 45% said they thought moving critical workloads to public clouds to take advantage of services such as AI, data analytics and quantum computing would have an impact.
A large proportion of respondents felt their organization was well prepared for potential disruptions, with 72% saying their company was ready for any policy changes and 75% believed they were ready to deal with potential security threats. Everyone…until something happens.
Breaking down the responses from the different industries covered in the report, IBM found that 71% of financial services believe that "digital native" companies pose a threat to their business model, which has made their transformation efforts more urgent. forcing to focus on the increasing use of emerging technologies.
The top modernization priority for these companies is upgrading to new enterprise-grade cloud security technologies, but also increasing the use of data analytics and AI.
Among public sector organisations, 85% of respondents have adopted or plan to adopt hybrid cloud architectures and work with multiple cloud providers, perhaps unsurprising given that the UK government has adopted a "cloud-first" policy for the acquisition of new information technologies. services almost a decade ago.
Nearly three quarters (73%) of public sector respondents indicated that their organization was forced to upgrade its security strategy in light of recent cyberattacks like SolarWinds.
For the telecommunications industry, there is intense pressure to move to digital platforms as part of network transformation as 5G is adopted, IBM said, and this led 89% of respondents to declare that they use or plan to adopt an industry-specific technology. cloud platform for telecoms.
The study's findings show that these highly regulated industries are feeling pressure to transform, but they cannot afford to let go of security, resiliency and compliance, according to IBM.
"As regulation continues to advance, it is critical for enterprises to avoid vendor lock-in and adopt hybrid multi-cloud strategies to achieve stability, keeping compliance and data privacy at the forefront" , said Howard Boville, senior hybrid cloud veteran at IBM. ®